We are committed to fulfilling all requirements, including those specified by our customers, industry standards and statutory regulations.
We are committed to the continual improvement of products, services and processes; including improving the effectiveness of the Quality Management System.
We are committed to providing Customer Satisfaction through the achievement of Quality Objectives consistent with the 'QCDDS' Corporate Philosophy.
QCDDS -- A Corporate Philosophy: Commitment to Quality Unites Our Fundamental Philosophies forming the Core of Hitachi Automotive Systems Products.
"Customer Satisfaction"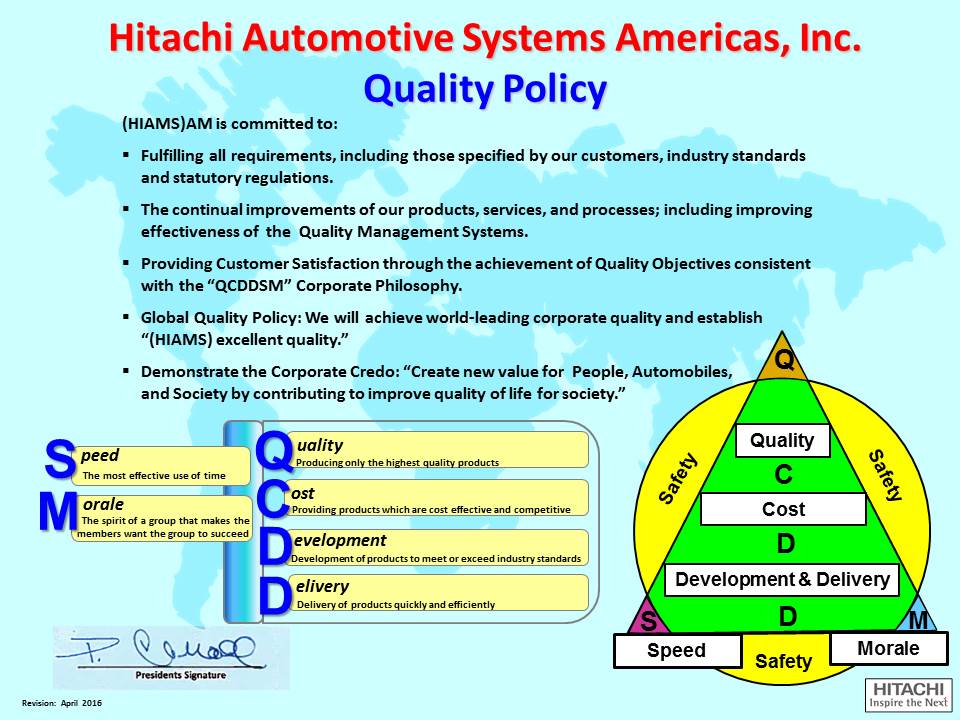 Our Quality system and ISO/TS 16949-2009 guidelines allow us to be a leading JIT (Just In Time) supplier for many automotive companies. Hitachi Automotive Systems Americas, Inc. supplies its clients with quality components that automotive manufacturers and their clients can rely on. We do this by presenting to our clients high quality CAD engineered and comprehensively tested products. Being a leader means being the best, and as a world leader in automotive products, Hitachi Automotive Systems Americas, Inc., is the best! For more information please contact us. Thank you for visiting the Hitachi Automotive Systems Americas, Inc. website.